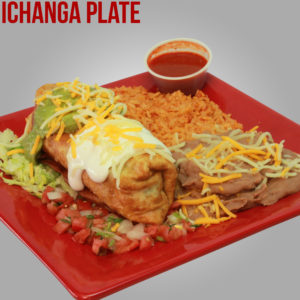 One of our customers gave us this incredible testimonial describing our delicious chimichanga plate, which he said was one of his personal favorites! Listen to this – his exact words:
"I was craving this chimichanga for literally about 3 months…. and when I finally got one, it was just absolutely fantastic!! That first bite just the juiciest most wonderful piece of chicken breast melting in my mouth. And as I was hitting the middle of it with the sour cream and guacamole it was like the best pie a la mode you ever had…. but wrapped up in a burrito!" – Greg Esposito
But Don't take this satisfied fan of ours' personal word for it…. come try one of your own today!
We are open late until 11pm weekdays and 3am on weekends. Can't wait to see you soon at D'leons!
mexican, mexican restaurant, mexican food, burritos, enchiladas, tacos, guacamole, quesadillas, tostadas, huevos rancheros, nachos, chimichangas, chile relleno, carne asada, tamales, carnitas, fajitas, burrito, enchilada, taco, quesadilla, tostada, huevos rancheros, nacho, chimichanga, chile rellenos, tamale, carnita, fajita, 
Check out our famous burritos here and Visit us on our Twitter & Facebook Page!
https://www.facebook.com/highlandsdleons/
https://twitter.com/highlandsdLeons
ramon October 4th, 2022
Posted In: Uncategorized