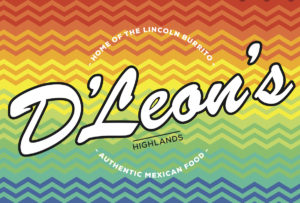 D'Leons is a family owned authentic Mexican food restaurant located in the Highlands in Lincoln, Nebraska. For decades we have prided our self in providing the best fast Mexican food at quality prices for our Lincoln customers to enjoy. We work hard to use quality ingredients and authentic spices for all of our dishes on every order.   And we hope you'll come see us soon!
We love our regular clients and cherish each and every customer that comes past our door. Every single order is made fresh and with the dedicated expertise of our D'leons happy team members.
We can't wait to see you soon and hope you'll come  see us in the Highlands the next time your hunger strikes and longs to be satisfied by our authentic delicious Mexican food.
burritos, enchiladas, tacos, guacamole, quesadillas, tostadas, huevos rancheros, nachos, chimichangas, chile relleno, carne asada, tamales, carnitas, fajitas, burrito, enchilada, taco, quesadilla, tostada, huevos rancheros, nacho, chimichanga, chile rellenos, tamale, carnita, fajita,